BatchConverter


Is a utility to BatchProcess Inventor supported import/export filetypes.
In addition to this Batchprinting is supported.

BatchConverter has been tested in Inventor 6 and in Inventor 7.
My intention was to support Inventor 5.3 too, and some function still work's, but the full benefit is running Inventor 6 and later.
The program has been tested under Windows 2000 and Windows XP Pro.

I have been aware of different problems regarding Windows XP, so there might be some operating problems.

The functionality regarding Inventor is still intact though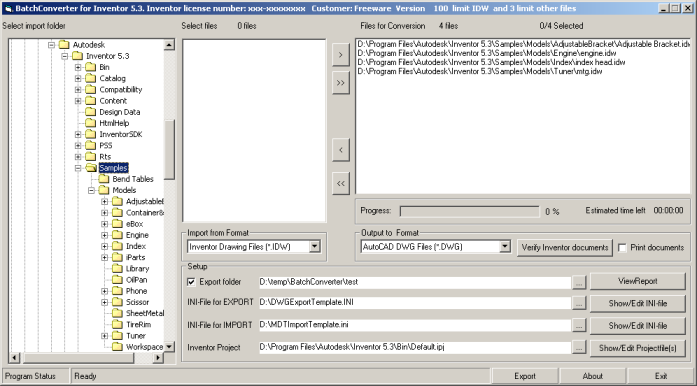 Download BatchConverter R1.37 ( 1,6 Mb )

By downloading this program you aggree to the following terms:
LARONI can not, in any way, be held responsible for any damages or data loss from your use of this software.

Download BatchConverter R1.37 manual, Zipped Word document ( 291 Kb )
Download BatchConverter R1.37 manual, PDF document ( 507 Kb )

BatchConverter in it's free version has a limit of 100 IDW's to open and convert, and 3 open/conversions of all other filetypes, including printing.

To activate the full payable version, You have to send a mail, using the following link, to recieve terms of payment.

LARONI@TDCADSL.DK

As mentioned, BatchConverter is free to download and use, without restrictions, except for any modification to the programfile, reverse engineering and the like.
You are urged to try this program before considering purchasing a full license.
Please read the manual before using the program, at least to check what can be done and not.
The price for obtaining a full license to remove any restrictions is:
2000 DKR, 275 EUR, or 300 USD

The license grants You the rights to install it on 1 ( one ) computer, and to get free program updates within this major release ( R1.xx )
To obtain a valid license, Your inventor serial number is needed, as this is the only check BatchConverter makes.
If you don't know how to get your serial number, this small utility kan get it for you and save it to disk.

Download GetInventorSerial.exe ( 32 Kb )

This program is free and may be used to watch running program's dialogues and interact. Is primarily for Autodesk Inventor but might be usefull for other purposes too.
Read inside the ini-file for further explanation.

Download BatchWatcher.zip ( 8,3 Kb )

Any comments and suggestions are welcome.